Best Locations for Couple Shoot Prewedding Shoots near Bangalore
Looking for Some Best Locations in and around Bangalore for Couple shoot and a prewedding shoots? Look no further, here are few top locations you should consider before finalising your location.
1. Shetty Halli Church (200 Kms from Bangalore)
Shettihalli Church is located about 200 km from It was Built in the year 1860s by the French missionaries. The church is built with a magnificent structure of Gothic Architecture and was abandoned after the construction of the Hemavathi dam in 1960. It has since then become one of the famous tourist's spots. If you have plans to shoot a beautiful couple. Convince them to take them to Shetty halli church.

Picture Courtesy: Aashish Photography

2. Palace Grounds
Bangalore palace grounds can be a game changer of your photo shoot project If you manage to take the permission to do the photo shoot for a couple of hours. There is no need of explanation about this place.

Picture Courtesy: Aashish Photography
3. Cubbon Park
Many people say Cubbon Park is an outdated place for photo shoots, but considering different spots available Cubbon Park still stands one of the best locations for couple shoots in Bangalore. Pigeon spot, Flower areas, Greenery, Water Fountain, Library there are many other spots within Cubbon Park to explore your photography skills.

Picture Courtesy: Shiv's Photography
4. Melkote (150 Km from Bangalore)
Melkote is the superb place to take pictures it is about 2-hour drive from Bangalore. Best spot in melkote is " The Kalyani" with steps and Mantaps all around, which is the favourite of many filmmakers. You can produce wonderful images in around this location.
Picture Courtesy: Hemanth Shriyan
5. Lepakshi Temple
For best couple shoot experience, consider this place. Lepakshi temple is one of the best photoshoot locations near Bangalore. It might take about 2 and half to 3 hours to reach this place from Bangalore. But its worth visiting this place. Lepakshi temple is located in Ananth Pura District of Andhrapradesh its about 120 km far from Bangalore.
Temple is known for its cultural and archaeological and texture which gives wow backgrounds to produce images. The temples are the location of mural paintings of the Vijayanagara kings and Kannada inscriptions.
6. Bhoga Nandeeshwara Temple
If you cannot travel far from Bangalore, no worries you can go to Bhoga Nandeeshwara Temple which is located near chikkaballapur. This ancient temple has mind blowing texture colours which make photos look more vibrant.

Picture Courtesy: Aashish Photography
7. Lalbagh Botanical Garden
Lalbagh botanical garden has India's largest collection of tropical plants, and it is one of the main outdoor photoshoot locations in Bangalore. Kempegowda Tower, Glass House, Kapok Specimen, Lake, Japanese Monument, Tree fossils, and a lot of old Trees can add a lot of flavours to your photography skills.

Picture Courtesy: thepicturist
8. Makalidurga (60 kms from Bangalore) 
If you love nature and trekking, Makalidurga Trek can be one of the best photogenic places for your prewedding shoots. The route, in a way resonates with their journey to their wedding as well.
Makalidurga is located just 60 km on the outskirts of Bangalore, place is surrounded with Lake, Railway Track, Hills views would add up plenty of background opportunities for photographers.
Picture courtesy: 1plusonestudio
9. JP Nagar Outskirts
Not many people believe if we say JP Nagar Outskirts is one of the coolest pre wedding photoshoot in bangalore! Yes
Stealing the show with a lake surrounded by verdant greenery, JP Nagar Outskirts is a serene locale for your special photographs to come to life. Since it is not very well known place you will have an advantage of privacy. Try to reach there early morning to get best out of it!
Image source: Pinterest
10. Bangalore Kanakapura Road Corridor
Bangalore Kanakapura Road offers green and beautiful background for prewedding shoots. Photographer can use his creativity to get best out of this location as it gives variety of vibrant colors in the background. If used correctly, this location can be one of the wowest couple shoot locations!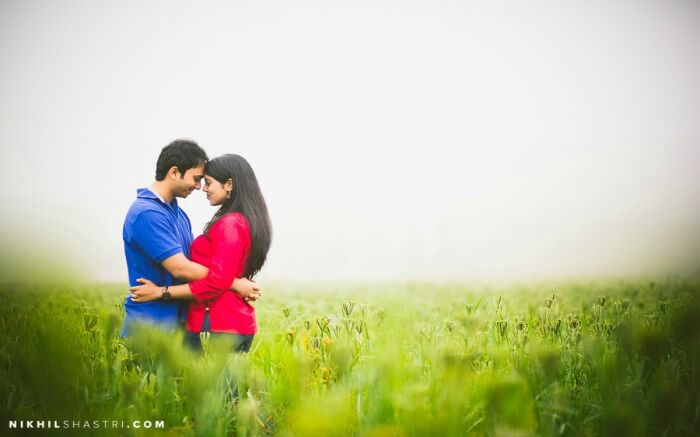 Image source: NikhilShastri.com
11. Nandi Hills (60 Km from Bangalore)
Nandi Hills or Nandi Betta is an ancient hill fortress located in Chikkaballapur district. It is about 60 km away from the city of Bengaluru. You can take stunning pictures during sunrise ensure you reach this place by 6 am.

Picture Credits Aashish Photography
If you have come across any other beautiful outdoor photo-shoot locations which are ideal for prewedding shoots, please drop them as comments.