Few memories are precious for a lifetime. It becomes precious when you make that moment unforgettable. Straightly coming to the point, a pre-wedding shoot is one of those moments where each and everything matters. It might be anything your makeup, costume, place, photographer, weather, love and your mood too. Anyone fails, you may regret. I will take a best and important topic to make you people easier "Choosing the best outfits for pre-wedding shoots". Confusion surrounds the brain when you start thinking about it. Isn't it? Yes, I am sure because I was into the same problem. Let me clear up your confusion by giving you ideas.
Floor Length Gown and a Suit
If you are adding some drama for the pre-wedding shoot like a romantic song, then you can opt for a floor-length gown and a suit. It is always a comfortable costume and suits almost every place. Some may not feel comfortable in a short dress. So, this works decent and stylish. When you choose this costume, work on the makeup and hairstyle which completes your style.
2.  Casual Dress for an activity
Dress like jeans and a t-shirt or a simple top looks good if you are planning for an activity. Match with your pair, to make a picture-perfect couple. Short skirt for a girl also looks cute. This costume doesn't require huge makeup. Be simple and natural to have fun. When you see the photos you could see the happiness and lovely moments which you had spent on that day.
3. Choose solid colors
Photographs attract every one. It is attracted when it looks colorful. While choosing the costumes give importance to colors. Solid colors blood red, navy blue, pink, yellow works well for the photographs. Also, Choose colors like blue and yellow which is a classic color. Select the colors which complement each other.
4. Bring out your culture
If you wanna show off your culture that's really great. The only thing is to choose the best place which complements your dress. It looks innovative and shows your love towards your culture. It shows that people aren't forgetting their culture and traditions which also adds value to the photos. When people look at such photos somewhere a happy smile appears on their face.
5. Short Party Dress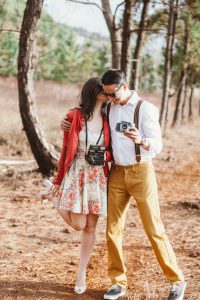 People who are comfortable with the short dress can go for a pretty look. Short dress with high heels gives you a complete look. Wear it, if you are happy wearing it. Being stylish is also a point to attract your loved one. In this current world, people love being modern. It's good to hear that people are adopting changes. It also makes happy for the couples when they look at these photos with their children in the future.
6. Limited accessories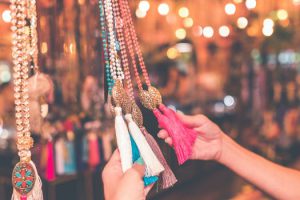 Do not accessorize much. Avoid heavy jewelry for the pre-wedding shoots. Let it be simple and neat. Sunglasses work well for the day shoots. Don't make it messy, match accordingly. It shouldn't irritate your pair while you pose for a photograph.
7. Saree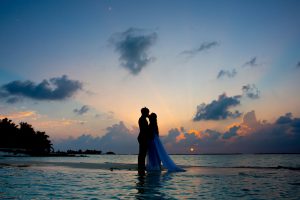 Saree is always the best outfit for any occasions. Girls look sexy and hot more in sarees. I am sure, boys agree on this point. Chiffon or a soft sarees with floral prints or plain and dark colors look amazing. Select a saree which is bit simple and some jewels on it. I would suggest free hair for this outfit.
8. Simple Patterns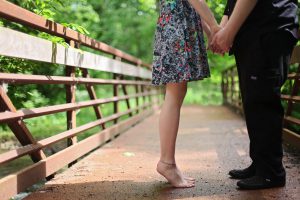 If you are choosing a solid color, let the patterns be simple. It would be good if anyone of you can opt for a pattern. Both with patterns or bold patterns may distract photographs. Avoiding patterns would be the best for photographs.
9. Maxi Dress
Maxi is one of the best outfits for pre-wedding shoots. It is always a comfortable costume to wear and easy to handle. Go for rare and solid colors or a floral prints which gives you a pretty look. It complements any place, props, and the personality. If you do not like to show off your personality you can choose this kind of dresses which covers your personality neatly and give a stylish look.
10. Go white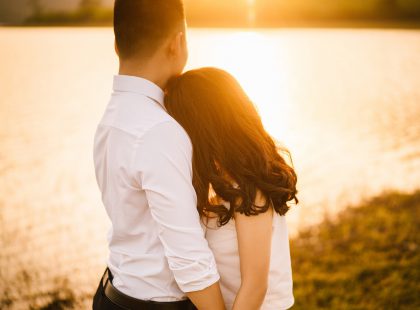 White is a classic color. If it is a simple dress like jeans complement it with a white top or go for a white summer short skirt. If you have chosen a beach for a pre-wedding shoot a simple white maxi looks cool or a white saree with some simple works or prints. Your partner can go for a white shirt or t-shirt for blue jeans. Both make a hot pair in white and it is always the best outfits for pre-wedding shoots.
Conclusion
Choose the best photographers, place and the costume for the stunning photographs. Above ideas would help you out in choosing the best outfits for pre-wedding shoots which is always the hardest task. Photographs are the combinations all these aspects. It is a lifetime and one-time experience which is a treasure of your life. It's you who can make this moment very special with your outfits and love. Each and every photo will have a story which makes you rewind those moments again and again, which ultimately strengthen your love forever.