If you are planning to get into professional photography or planning to buy a DSLR for your personal use, its good if you start with low budget. There are many entry level cameras costs upto lakhs, but it if you make wise decision, you can find Best DSLR Cameras under Rs 30,000.
Most of the entry level cameras have similar sensor. Its just that some special features like WiFi, ISO sensitivity and few other features (Which are not so important) which differentiate rates with huge margin. In this article We will help you finding the best DSLR cameras under Rs. 30000 available on Indian eCommerce websites.
1. Nikon D3400 DSLR Camera with Kit Lens AF-P DX NIKKOR 18 – 55 mm f/3.5 – 5.6G VR
It's time to get into the world of DSLR photography with the Brand new Camera D3400 by Nikon. The best feature of D3400 is it automatically connects your pictures with the world. Nikon D3400 comes with 24.2 MP, 11 point AF system which gives the option to take stunning images. ISO range is between 100- 25,600 which is one more killer upgrade. D3400 is a lightweight camera which comes with Full HD 1080/60p video option which can be used to record any special moments or you can use it to shoot professional short films too.
Special Features
Effective Mega Pixels
24.2
Sensor 
CMOS 23.5 x 15.6 mm
ISO Rating
ISO 100 – 25600 (Auto)
Number of Lenses
1
Lens Focal Length
18 – 55 mm
Focus Points
11
Shutter Speed
30 – 1/4000 sec
Video Resolution
1920 x 1080, 60p
Video Quality
HD, Full HD
Warranty
2 Years Domestic Warranty
| | |
| --- | --- |
| Pros | Cons |
| Very Compact DSLR and Lightweight | Poor Connectivity Options |
| Extraordinary Battery Life | LCD screen lacks touch operation and is somewhat reflective |
| Good single-shot AF performance | Flash could have been better |
| New AF-P 18-55mm kit lens which is quieter and slightly faster | Video Performance could have been better |
| Value for money | No WiFi |

(2) Nikon D3300 DSLR Camera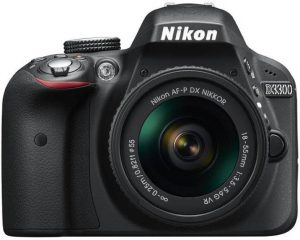 It might be hard for enthusiast photographers to get excited about entry-level DSLRs. With slower shooting rates and smaller arrays of Auto Focus points, these cameras are often perceived as rather anemic compared to their 'gutsier', more advanced counterparts. As a consequence, they tend to be disregarded as serious tools. But that's a not a good way to handle this, let's not forget that the technology we now find in entry-level cameras was the preserve of the professional DSLR.
| | |
| --- | --- |
| Sensor | 23.5 x 15.6 mm APS-C CMOS sensor |
| Maximum Resolution | 24 MP |
| Display | Articulated 3.0" 921k-dot |
| Continuous Shooting | 5fps |
| Auto focus points | 11 |
| ISO | 100-12800 |
| Video | 1080 30p |
| Battery | 700 shots |

(3) Canon EOS 1300-D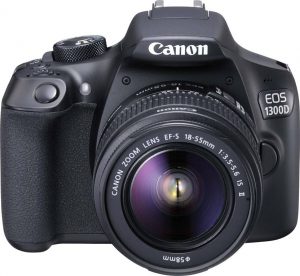 The Canon EOS 1300D price tag would be roughly 26,000 INR, which is not bad for an entry-level DSLR, except that the EOS 1200D with two lenses (18-55mm and 55-250mm) can also now be available at the same price rate. After a wait of nearly two years, the EOS 1300D is only a small upgrade over the EOS 1200D.
Canon hasn't strayed too far from its current formula, and the EOS 1300D looks virtually identical to its sibling. The body is made entirely of plastic with a matte texture which is good for grip and is somewhat resistant to scratches. There's rubber padding where your fingers and thumb would go, which makes it easy to shoot with one hand. Fit and finish are fairly good, although the quality of the plastics suggest that this device was made with a lowest possible or tight budget in mind.
| | |
| --- | --- |
| Sensor | 22.3 x 14.9 mm APS-C CMOS sensor |
| Maximum Resolution | 18 MP |
| Display | Fixed 3.0″ 460k-dot |
| Continuous Shooting | 3fps |
| Autofocus points | 9 |
| ISO | 100-6400 |
| Video | 1080 30p |
| Battery | 500 shots |

DSLRs help to get high-resolution images when compared with Point and shoot cameras. If you are planning to get into professional Photography, DSLRs are the ideal cameras you should own. Hope this article helped you find the best camera for you under the budget of RS. 30,000.
Don't forget to read our other articles about Best DSLR Cameras under 50,000 in India