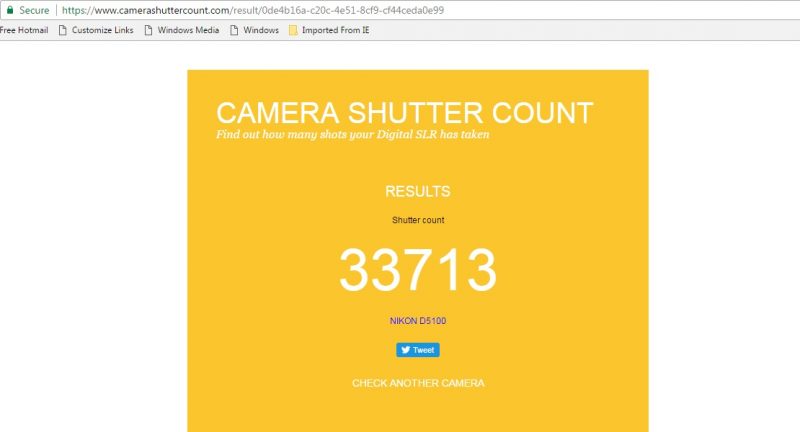 Before we getting to know how to check Shutter count of your DSLR let us understands some basics first. 


What is Shutter Count?
Shutter count is the number of photos your DSLR camera has taken. In other words it the sum of a total number of times the shutter has been released. It indicates the age and Life of your Camera's shutter.
Normally all DSLRs have the lifespan of 100,000 to 300,000 shutter releases. Which means you will have to replace the shutter once your camera reaches this number.
Why is it important to know the Shutter Count?
This will mainly help when you are planning to buy second-hand DSLR or Used Camera. Shutter count will give an actual number of pictures taken from that device, therefore, it is easy to know how old the camera is. Lesser the count, better it will be. Make sure you check Shutter count of the DSLR before you make a purchase decision.
How to check Shutter Count in DSLR?
To check Shutter count in DSLR, Follow these easy tips. This would work for both Canon and Nikon Models.
1. Click one Picture on your DSLR and save it to Your desktop or laptop. Photo processing software sometimes erases metadata therefore ensure you do not edit or rename the image. Keep it as it is.
2. Visit any of these sites:
camerashuttercount.com
shuttercounter.com
myshuttercount.com
3. Choose file and Click on Upload.
You are done!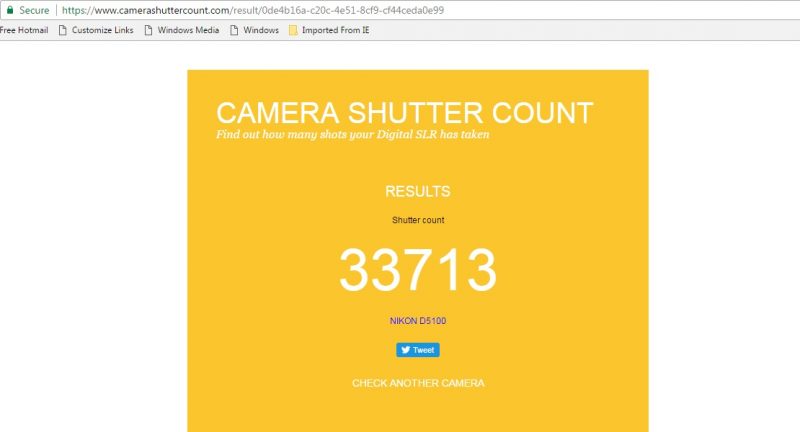 You can now see the shutter count of your DSLR.
Sometimes few models might get an error message saying "your camera doesn't add shutter count information to images" That is mainly because the camera model is little old or your camera settings might have restricted to show it.
Let's  see how to fix the error "Your camera doesn't add shutter count information to images"
I did a lot of research to find a solution for this error and found this one interesting.
EOSInfo Software
Got this solution from one of the forum members of photo.net Colin Carron
He says "The software I have used in the past is EOSinfo. It is a free download from this site :
http://astrojargon.net/eosinfo.aspx?AspxAutoDetectCookieSupport=1
As I remember the instructions are a bit sparse but it is very simple to work :
download the software, connect a camera to PC, run the software – there is your shutter count.
Something like that. I used it on a 5DII but it seems to work with most Canon DSLRs."
Install this application and Connect your Camera to see the shutter count
Magic lantern :
If you are aware of using magic lantern update on your Canon DSLR you can find the actual shutter count using ML as well. Please be aware using magic lantern plugin might cause damage to your DSLR. Proceed at your own risk. However, I have used this plugin to test It and have found no issues.
If you cannot understand this technical aspect, you can simply order a gig from Fiver to check shutter count of your DSLR for just 5$> Follow this link to order it online.  We will do the rest.
Hope I could help you to understand the concept of checking shutter count. Please try out and comment your camera's shutter count.