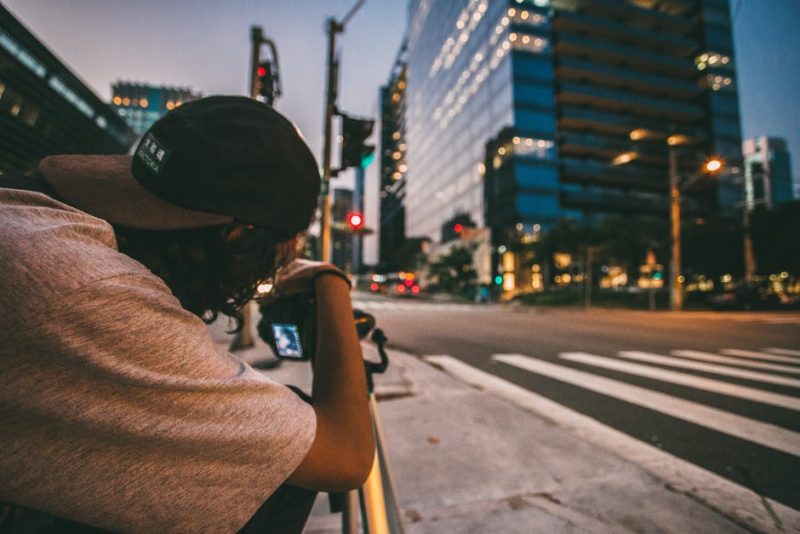 Are you one of those persons who are thinking of trying their career in film making? Well, it starts from the scratch. First, you need some of the essential things that will help you build small. And then, when you have mastered the art of film making, then you can go big and buy all those extra ordinary equipment to invest in bigger projects.
So, when you are starting from the beginning, you will want to make some ads and videos that are informative. Or maybe you will be making those small documentaries or late night TV promos that can help getting your name out to give your business a start.
And when you are just starting up, it will be important to have a number of filming gears that will not only help your start up, but will also be affordable enough to not make you bankrupt.
Here are the ten things that are so important for film making that you need to buy them right now if you are starting a career in fil making;
Camera:
When you say film making, the first thing that you need is definitely a camera. Then the question come, which camera should I buy?
There are a lot of cameras available in the market which provide you with different features and qualities. Fil making cameras are available at different price range and in different shapes and sizes too.
To get a good idea on which camera you should buy and what are the important features that these cameras provide, you can watch tutorials and get help from any friend who has any knowledge about these things.
You can also read about our best mirrorless camera under 100, which are perfect for making videos and shooting picture in high quality.
You must consider your budget and the requirements that you are going to fulfill with this camera. After that, you can compare the features and get knowledge about the characteristics of the affordable cameras in the market, and decide on one which is perfect for your needs.
Another thing you can do, is to call up at the rental areas near your location and ask them which cameras they keep and which cameras are on the top market demand these days. After you get that information, you will be able to get the perfect idea of which cameras are most popular for video making.
Lenses:
The best way to know which lenses are perfect for your need is to test them first. You can gt this help from any friend or a rental house can be useful here too.
Every production needs some special type of lenses which will require you to be updated on which kind of lenses will work on which type of sets. In this case, you cannot rely on word of mouth, and you will have to make sure by yourself that these lenses are perfect for your required needs. After testing the lenses by yourself, you can get those lenses from the market.
A lens is typically related to the type of set and scenery where you are going to capture the scene, giving the scene that perfect feel which can create emotion and belonging feeling in the heart of the viewer. A lens can put life in a shot or make it utterly un-relatable, which is why it is crucial to get a lens for your camera which lets people see the world through your eyes.
Tripod:
So you have got your lens and your camera. Where are you going to put the while filming? You are definitely not going to hold the camera in your hand for those long hours of filming, surely.
To make this easier, you will need a suitable tripod. A tripod doesn't only provide you a place to put your camera on, it also allows you to hand your camera bag or a light or reflector on it to give your scene that extra focus which sometimes cannot be achieved by other types of light.
A tripod is a very important gear for film making and every beginner should have one.
Microphones:
And you are going to need more than one microphone. If you are going to use shotguns, and there are two actors at two ends, it is best to use a pair of Best shotgun mic for film.
You can also wire lav mics to the actors which will help to make the voice more clear and audible.  A lav mic will be usable for one person at a time so you will need to connect a lav mic with each person separately.
A microphone is very important equipment for film making. You will realize this, if or when you do the mistake to get one which is low quality. It can ruin the whole video by providing distortion in the sound. So be sure to get one which has clear sound quality.
Audio recorder and mixer:
You will also need recorders that have XLR inputs in them. You are also going to need good cables with these mixers. If you get an expensive mic but you end up doing the mistake of buying cheap connectors or poor audio recorders, you will be wasting your time and money and end up destroying that hard work that you did for your project.
Buy all the equipment which has the same quality, so your work also has the same quality result. 
External monitor:
It is not the most important thing, yet it is a very useful thing. An external monitor not only allows you to keep all that hard work safe but also lets you arrange your work in a way that it is easy to access and categorize for later use.
Batteries:
Buy as many batteries as you can. Especially if you are going to shoot some place where you won't have easy access to spare batteries. 
You must also buy good chargers too. So if you lose one, or it gets failed, you can use the spare one. 
It is always good to have a spare charger and a number of extra batteries with you while on the set or shooting for films, because then you know that you are never going to be out of the essentials. While on the other hand, running out of power can be very frustrating, which can affect your work quality too.
Backups for data:
You will need to keep every bit of detail saved in data backups, as you will need any of the data any time even months after the shoot has finalized. All of that data is like a one-time access to something special, and even if one bit gets deleted, you will need to do all that effort again just to get that shoot again.
So, the best advice is, to get as many memory cards as you can, and save all that data in them. You can label special packs or boxes and keep these memory cards safe in them for later use. But the one thing you don't want to do, is delete even a single shoot, or go somewhere without lots of memory cards. 
Lights:
Lights are the most important part of the film making. Proper lighting can provide life to your shoot. With proper lighting, you can put realistic characteristics to your films and then you will be sure that the viewers also see it with their inner eye.
Only when the shoot is amazingly clear in proper lighting, will it be perceived by viewers as it was intended by the creators.
You will also need to put these lights at crucial points, where the shoot is shot from the most important points. Lighting can highlight some parts and give shades to some other parts, so you can capture videos at the right angle.
 Light stands:
To put the lights on. No matter which type of lights you use, you will need to put these lights on stand in order to be able to shoot more comfortably. You will also need to place some lights on floor, but when you need to highlight the actor's faces, you will need light stands to put lights on. By doing this, you will be able to highlight the features of the actor's faces as intended.
Conclusion:
 There are some important things that every beginner need to have to start a film making career. These essential things do not have to be overly expensive, but if you are starting your own production company, be sure to get good quality stuff. To ensure that you are doing effort on something which is worthwhile, invest properly in these essential things, and after getting a good response, you can get the stuff which is used by professionals.
Also read : Guide to photojournalism